Living in Guildford, Surrey
Published Oct 10th 2023
4 mins read
If you're thinking of living in Guildford, Surrey, you're in very good company. It's one of the longest-established and most desirable places to live in the Home Counties.
But Guildford is more than just a commuter town, Surrey itself has more wooded areas than anywhere else in the UK, making Guildford a perfect place for both commuting and ready access to the countryside.
This vibrant riverside town has a beautiful cobbled high street, the famous Guildhall gold clock, and an modern cathedral. There is a wide range of leisure and recreational facilities including restaurants, a theatre and a cinema complex. With the North Downs and Surrey Hills on Guildford's doorstep, the area offers the perfect blend of suburban and rural living.
What types of property are there in Guildford?
Guildford is blessed with a wide range of property types. There is a diverse blend of historic timber homes, Georgian and Victorian residences, new-builds and modern townhouses as well as studios, apartments and, on the outskirts, magnificent family homes of an appropriately lavish scale.
Homes in the Charlotteville area (to the east of the town centre) are in a conservation area, while Guildford's surrounding villages offer the chance to live in a chocolate-box cottage.
Whether you are looking for a brand-new apartment in the town centre, a modern, comfortable family home, or your very own manor house with grounds, it's likely you'll be able to find the type of home you're after; yet another reason why living in Guildford is so popular.
Schools in Guildford
Guildford has a number of significant private and state schools as well as being home to the prestigious University of Surrey. These include:
Primary schools in and around Guildford
Burpham Foundation Primary School;
Pewley Down Infant School;
Chilworth Church of England (Aided) Infant School;
Secondary schools in and around Guildford
Guildford County School – close to the town centre, this co-educational secondary school and sixth form was founded in 1905;
St Peter's Catholic School – a thriving co-educational secondary school;
King's College Guildford – a relatively small (350 students) secondary-level academy opened in 2014;
Independent schools near Guildford
Charterhouse – founded in 1611 and located in the nearby town of Godalming, Charterhouse is one of the UK's leading independent schools;
Royal Grammar School – located at the top of Guildford's High Street, RGS is a selective independent school for boys;
Guildford High School – a highly-rated private school for girls from the ages of 4 to 18 founded in 1888.
Cranleigh School, Cranleigh (co-ed boarding) and Cranleigh Prep School – both are very popular with families moving out of London.
Prior's Field, Godalming – an independent girls' boarding and day school near Guildford.
Green spaces in Guildford
For many of its residents, Guildford represents the perfect balance between rural and city life – the town is set in a gap of the breathtaking Area of Outstanding Natural Beauty (AONB) that forms the Surrey Hills. It's a gap through which the River Wey makes a tranquil passage that also offers a relaxing space immediately within the town itself.
The local authority manages more than 2 million trees across some 2,600 acres of open space, including 65 parks and gardens, 52 countryside sites, and 34 playgrounds.
Guildford Castle Grounds
The Castle Grounds offer a peaceful retreat from the bustling activity of the town and is renowned for its magnificent horticultural displays.
During the Summer months, an open-air theatre enriches the garden experience.
Hatchlands Park
Hatchlands Park is one of the largest country estates in the area (spanning 400 acres of parkland and woodland) and is full of year-round seasonal colour. There are waymarked walks as well as a children's natural adventure area.
Chantry Walk
You can enjoy 200 acres of ancient semi-natural woodland and meadows at Chantry Walk, situated in the Surrey Hills. It offers amazing views, a choice of gentle or challenging walks, plus the chance to spot grazing cattle during the Winter.
Guildford transport links
The towns location is favoured by those who want to live out of the capital yet remain closely connected to the economic levers of affluence, it's commuter-friendliness is one reason why so many consider living in Guildford.
For domestic or international connections, Guildford is strategically located between the UK's two major airports of Heathrow and Gatwick – both of which are well-served by direct transport links to the town.
Its two main railway stations – conveniently situated close to the town centre and shops – offer frequent rail services to London Waterloo (journey time of approximately 35 minutes) and to regional hubs such as Reading in the Thames Valley and Portsmouth on the South Coast.
Guildford is near the A3, with links to the M25. Central London by car takes around an hour to an hour and a half to drive.
Places to shop, eat, and drink in Guildford
For those living in Guildford, the town's cobbled streets and its surrounding lanes offer a distinctive charm that makes the centre probably one of the most popular high streets in the country.
It offers a varied collection of every kind of retail outlet from independent, luxury boutiques to popular brands of the main chains – the latter mainly concentrated in the Friary Shopping Centre, which also houses several cafes and patisseries to rest weary legs.
The Tunsgate Quarter features some designer brands as well as home and lifestyle stores.
There's even a farmers' market – held on the first Tuesday of each month (January excepted).
Guildford may be a small town, but the living is decidedly easy when it comes to eating out – whether you're after a quick bite or the luxury of fine dining. There are more than 100 well-run establishments from which to choose, and a range of cuisine from Italian to Lebanese.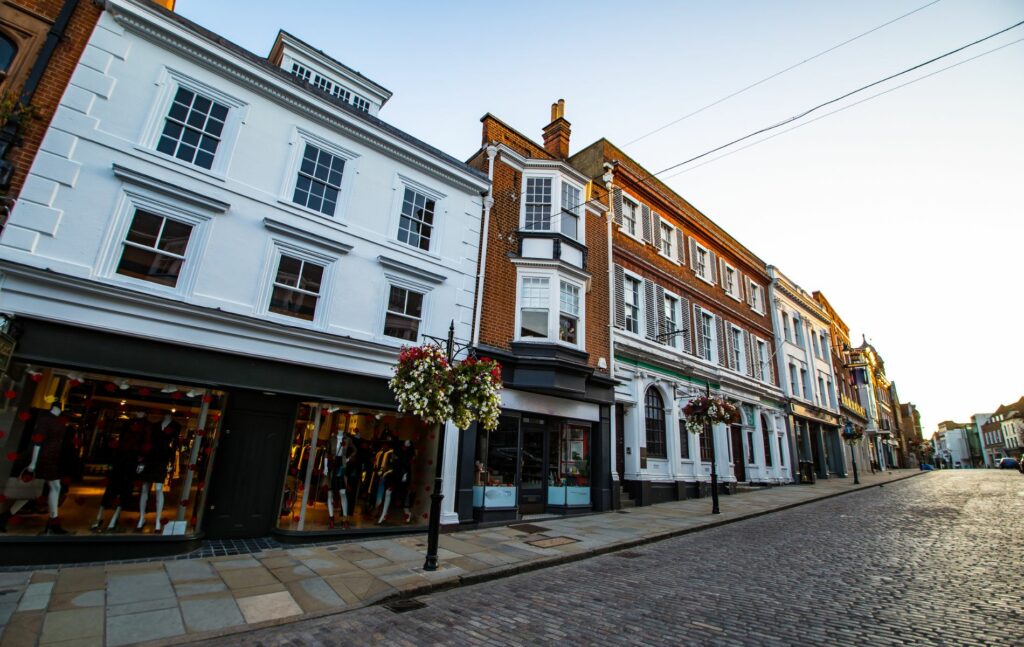 Thinking of Living in Guildford?
Guildford has it all – blending the calm of rural living with the energy of urbanity, uniting the old and the new. Guildford gives suburban life while maintaining swift and convenient links to the capital and various national and international spots.
A bustling and vibrant town, Guildford has a wide range of shops and plenty of restaurants, bars, and cafes in which to relax.
Also worth mentioning is The Yvonne Arnaud Theatre located by the river – established in the 1960s it is another of Guildford's charming features.
Whenever the local scene feels just a little too familiar, the bright lights and excitement of London are only a half-hour train ride away. Or you can enjoy one of the many woodland walks and parks in the area.
A rewarding family life may be assured by the availability of high-quality education in either the private or state sectors and the University of Surrey.
Because the town has so much to offer and is very popular, properties in Guildford come onto the market and are rapidly sold. Here at Garrington Property Finders, our dedicated and experienced team has ways of tracking down even those most elusive of properties – to help you secure your dream home. Get in touch.